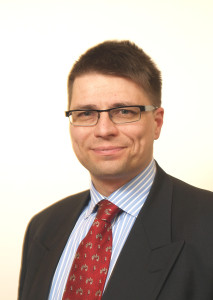 Jussi Koskinen is an investor, the Vice Chairman of the Espoon-Kauniaisten Osakesäästäjät (Espoo-Kauniainen Equity Market Savers) and the Vice Chairman of the National Coalition Party Economic Policy Society, KOTA. He has worked from 1995 to 2012 at Nokia Plc in management roles in business operations and product lines, product marketing, and strategy and business operation development roles. From 1990 to 1995 he worked at Tamrock Tamrotor Ltd, where he was responsible for the Central Europe sales area. By education, Jussi has an MSc. in industrial economics.
What is Finland's greatest challenge?
"Finland's public economy is now getting quickly into debt, exports are still 10 billion down from the 2008 level and the industrial base has got weaker.
Our challenge is to implement market economy-driven economic policy quickly and thereby create growth. We need a higher level of capital productivity, a higher level of work productivity in the private and public sectors, cutting the costs of the state, municipalities, and the EU and the focusing of taxation on supporting growth, which means a lower overall rate of taxation on work and ownership."
What is Finland's greatest opportunity?
"Finland is still a society based on trust. Finns can change, work independently and bear responsibility.
In practice, we have to increase profitable exports and the profits gained from business activity abroad."
Which one thing would you change at once?
"Ownership is work with the highest added value. It's worth making that into a success factor for Finland:
The combined effect of corporate and capital taxation has to be reduced to less than 25%. The objective is to move passive capital out of accounts and cost-inducing property floor space to owning companies and producing wealth for Finland.
The expertise associated with ownership has to be raised to the highest level. This means skillful investment in the best business activities and their skillful management."